Coffee Corner
New this summer 2018!
We are delighted to announce that we have recently opened "Coffee Corner", a place for our spectators to help themselves to complimentary refreshments and relax during their visit.
Sit outside, enjoy the sun and watch the lessons or if the weather isn't great then head inside where it's warm and cosy.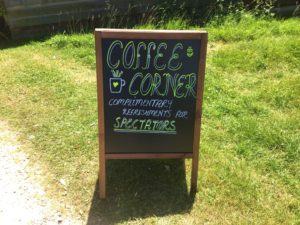 30 Minute Private Lesson
£25 Per Person
45 Minute Private Lesson
£32 Per Person
30 Minute Semi Private Lesson
£22 Per Person
45 Minute Semi Private Lesson
£30 Per Person
60 Minute Semi Private Lesson
£37 Per Person
45 Minute Group
£23 Per Person
60 Minute Group
£25 Per Person
15 Minute Walkout
£7.50 Per Person
30 Minute Walkout
£15 Per Person
90 Minute Pony Club Sessions
£25 Per Person
Lessons are to be paid for on booking. 

Lessons cancelled with less than 24 hours notice will still be charged for.
Pony Club
A pony club session is 90 minutes long and consists of 45 minutes of stable management and 45 minute group lessons. This session is £25
To Qualify for this, your child needs to be a member of the pony club which is an annual fee of £30. For an application form, please contact us.